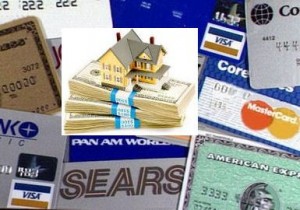 One of Shakespeare's oft-quoted lines — "Neither a borrower nor a lender be" — is sage advice, especially for many cash-strapped Americans. But perhaps you haven't followed Shakespeare's wise counsel. If credit card payments are taking a big chunk from your paycheck, you may wonder if it's a good idea to use your home equity to consolidate high-interest credit cards into a more affordable monthly payment.
First, a little background. Home equity is the difference between what your home is worth and what you still owe. If your home could sell for $200,000 and your mortgage balance is $100,000, you have $100,000 in equity. Banks and other financial institutions will often grant loans or lines of credit based on that equity. A home equity loan is essentially a second mortgage. By pooling credit card balances into a single home equity loan, you're not getting rid of debt — you're trading one type of debt for another.
Is this kind of debt consolidation a good idea? It can be. For one thing, a lower monthly payment can free up cash. Also, trading variable rate credit cards for a lower fixed rate loan can help with financial planning and bookkeeping, and may save you interest in the long run. In addition, interest on a home equity loan or line of credit may be tax-deductible.
With your credit cards paid off, lots of available credit could soon be staring you in the face. As Hamlet put it, "There's the rub." If you fail to modify the spending habits that dragged you into debt in the first place, you may end up making payments on a home equity loan and credit cards.
Another thing to remember with this kind of debt consolidation scenario: your home is on the line. Why? Credit card debt is generally unsecured. That means it's not collateralized by anything but your good name. If you don't make credit card payments, you may be hounded by bill collectors, but they won't foreclose on your home. Not so with home equity loans. They're secured by your house. If you default, you may find yourself looking for new digs.
Shakespeare also said, "To thine own self be true." In other words, don't kid yourself. If you're prone to impulse buying and likely to dive into debt again, think twice about taking out a home equity loan to pay off credit card balances.